Help 4 Wildlife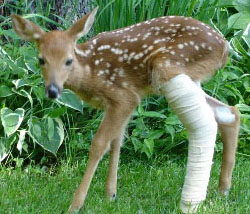 What Animal Do You Need Help With?
If you are interested in the rehabilitation of our local wildlife including: squirrels, woodchucks, opossums, raccoons, or rabbits, mice, chipmunks, fawns, please use our Contact Page to fill out the Contact Form or find the Phone Number for the animal you need help with.
We cannot legally rehab skunks nor bats.
Birds, waterfowl, raptors, foxes and coyotes have special needs, and you will find numbers on the Contact Page under "Additional Resources" to help you find the right rehabber under contact for these species.
Our Volunteers
Our rehabilitation volunteers are dedicated volunteers whom are licensed through the State of Michigan, Department of Natural Resources and have current certificates and knowledge of the latest rehabilitation techniques as well as proper medications and formula needs for every animal.
Thank you for visiting our site. We hope you will find information that can be useful and if not, please contact us.